Mix Serif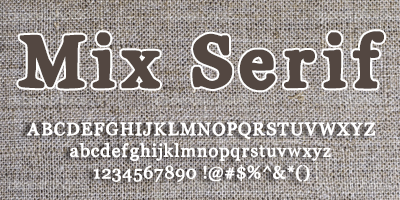 ×

About the Mix Serif Font
Mix Serif by Mis Fonts is a casual serif font perfect for giving any project to remain legible and have a comfortable feeling.
Note of the author
Most of my fonts are free for personal, educational and non-profit use. This means, you can use it for all your personal or "for fun" projects. If you start sharing your project with others, a little credit back to my site (www.mixfonts.com) or a small donation might be enough.
Now, here's when it gets a little tricky. When you start earning off of whatever you use the font for, it starts becoming commercial. This includes magazines, stationery, printables, etc. Please visit www.mixfonts.com for personal/commercial licensing, and to view some of our newer fonts. Thank you!

Like This Font?
Bookmark This Font
×

You Must Be Logged In For This Feature
Log In
or
Create an Account
Font Details
Uploaded: September 12, 2022
Download Files
MixSerif.ttf