Understanding Font Licensing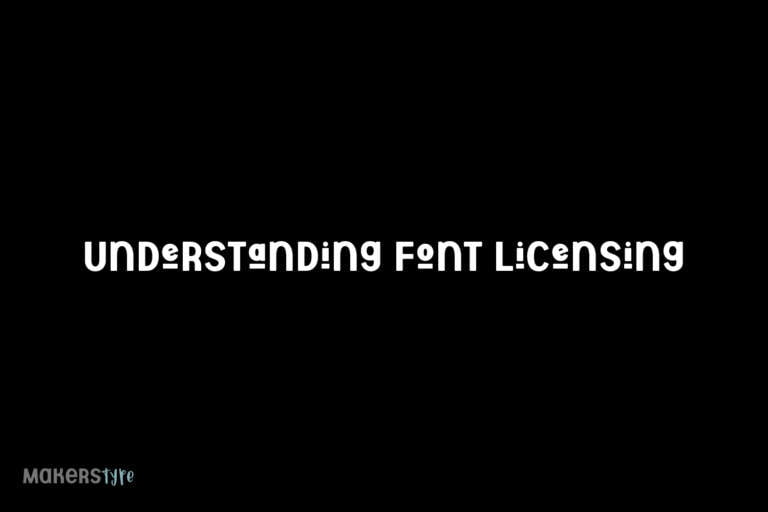 Understanding Font Licensing
As an imperfect summary, Font Licensing is broken down to where the font is installed/located at. If it is installed/located in multiple places, you will most likely need multiple licenses. **It is sometimes helpful (but not always) to think of font licensing as similar to software licensing.**
Donation Based
Some designers just require a donation for any business/commercial use. Often, the description will have some guidelines on what the donation will cover, but if you have any questions feel free contact them.
How much should you give for a donation license? Think of the time you save not having to create your own font or the money you save not paying someone to design one for you. Font licensing typically ranges from $5-$40 but can go up to tens of thousands. We recommend trying to reflect the value it gives to your product or advertisement. (Note: Donations of less than a dollar will mostly go to PayPal, not the designer.)
Font Licensing for Commercial Use
How does licensing fonts work?
If you plan to use any font on anything connected to business use, it would be a good idea to check with the designer to see how they would like you to pay for use of that font. Each Designer is different, and each will have their own business model. Generally, it will require a fee that is based on the type of use or uses you need. Once you pay the fee, often you will receive paperwork that proves you have the right to use that font on your project. If you choose to use the font unlicensed you leave yourself liable for unlicensed use, and this can be anywhere from the cost of a license to court costs and damages.
What is Desktop Commercial Use
If you need to purchase a license, the most commonly needed one is a Desktop License. Typically, this will cover the font to be installed on one (and sometimes more) computer(s), and many (but certainly not all) products that are made on it. Designing a logo and other graphics or products for sale like a mug and other physical projects are both situations where often the desktop license will cover your needs.
Projects in which you use programs like Photoshop, PowerPoint, Final Cut, and many other programs like these, are commonly covered by the Desktop License. Again, a guideline I often tell customers is that the licensing often corresponds to where you are going to install or embed the font. If you are going to install a font on your computer for business use, you will commonly need a desktop license. Even if your end-use is one of the other types of licensing, there are very few situations in which you will not need a Desktop License as well.
Users are the number of computers/people that will be covered by the license. If you have an office with 12 people and they all need access to the font, you will need a 12 user license. Some designers have a range of users the license covers (Ex 1-5 users).
Things get a bit more complicated after the desktop license, but we will do our best to explain the other types of licenses.
Application License
If you would like to embed a font into your application, many designers offer an Application License. The Desktop License would cover an image you created in an image editor (like Photoshop) and used as a png or jpeg in your app, however, if you would like to include the ttf, otf, or woff files in your source code that would allow you to use the font on menus, descriptions, or any other part of your app, this may require an application license.
Webfont License
If you would like to use a particular font within your webpage, an efficient way is to use a webfont. These files are compressed for speed while still allowing you to use all the functions of the font directly on your web page.
Can't I just convert a font to a webfont? Why do I need to pay? This will depend upon the designer, but often it is against the terms of use for users to convert the ttf or otf into a webfont. Also, webfonts are commonly licensed by the estimated number of page visits your site will see. This is because many of us don't want to charge 'Mom and Pop Pizza Shop the same as 'International Car Company'.
eBook/ePub License
As it sounds, eBook, also called ePub, licenses allow for embedding fonts into PDFs and other eBook, eMagazine, and eNewspaper files. Each designer will have different rules on how many copies, issues, or titles these licenses will cover, so make sure to check their EULAs.
Server License
If you would like to use a font on a website or application that allows the end-user to make custom products or graphics with that font, you will most likely need a Server License. Allowing a customer to create a custom t-shirt, greeting card, or mug on your platform are all examples where you would need a Server License. Typically these prices are higher due to the potential volume of end-users that the licenses might cover.
Custom License
It's possible there may not be an exact fit for how you would like to use the font in a license. Most designers are glad to work with you and come up with something that will be mutually beneficial. Feel free to ask them and make sure you tell them the exact way you are intending to use the font.
There are many more licenses out there and we will try to add to this list, but if you need more help or explanations, always feel free to ask the designer questions about their licensing. It almost certainly will not be the first time nor the last time.
Why is font licensing so complicated?
In my experience, we as designers are trying to get a fair price for everyone using the font. If you are a teacher wanting to design products for other teachers to use, I don't want to charge you the same amount as a Fortune 500 company. That's not really fair for either company. Because of this, many designers have come up with systems that are as fair as they can make while still trying to earn income from their work. Many of us have been cursed at for charging for a font while others laugh at us for charging so little. Most of the time, our goal is just to create something fun, unique, and useful and be compensated fairly for that work.
Where should I license fonts from?
We typically suggest using the designer's personal site if they have one. But on MakersType clicking the "Purchase License" button will take you to the author's preferred licensing page for that font.
If you would like a better understanding of Personal Vs Commercial use, you can check out this article.
Post Details
Uploaded: October 9, 2020