Personal vs Commercial Use | What does Personal Use Mean?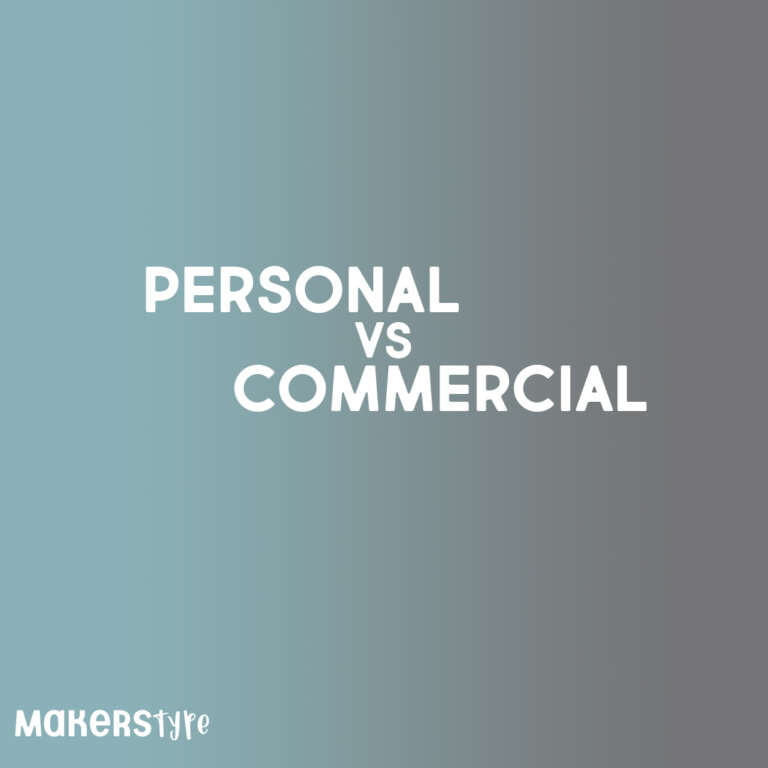 What is the difference between Personal vs Commercial Use?
One of the most common questions we get asked as independent design foundries is "Do I need a license for this use"? Knowing the differences between Personal vs Commercial Use can be tricky at first, but by the end of this article, we hope you will have a more clear understanding. Most of these situations are true for licensing in general, not just for fonts, but obviously, there can be subtle differences.
What does commercial use mean?
Commercial use is any use that is associated with a business, organization, or foundation on advertisements, products, stationary, or other media. Each creator may have their own terms, but as a general rule, it's a good idea to contribute to those helping you create content and promote your brand or business.
Why do I need a license?
Typography is often at the core of any graphic design, specifically when trying to communicate something. Fonts allow you to save time and build a toolbox of alternatives that can quickly change the tone in any design to better reflect the intent of your messaging. Licensing is the way that designers get support to continue working. A single font can take hundreds of hours, so it's not unreasonable to think that if you would like to use it with your business, it should be worth supporting their business. Pricing often (but definitely not always) reflects the time it takes to build the skills (learning software and hardware, other alphabets, artistic talent, and more) needed to develop highly functional fonts.
If you need a better understanding of the common types of licensees, you can check out this article.
What is Commercial Use?
The word "commercial" often has a connotation of dealing with a large corporation, but really it means anything connected with commerce. A phrase we hear all the time is, "I don't need a license because I am not selling anything with the font on it". If you have thought this before, don't worry, you're not alone, but this would be inaccurate for most licensing. Typically, selling a product or a good is considered not only commercial but retail use and may have other licensing restrictions.
Commercial use boils down to anything involved around a business. Advertising and marketing, websites, social media, blogs, business cards, and other office stationery, as well as products (and much more), will all often require a license.
If you work in a non-profit field, it is important to check with the designers as well. After the NFL (which was considered a tax exempt non profit until 2015) used one of our fonts on a project without paying, we had to change how we dealt with other nonprofits. Some designers allow use for non-profits, others will require a license, which is why it's important to check with the designer.
What does free for personal use mean?
Some designers want to offer the ability to use their work for projects around the home. A decorative quote to hang on your wall is a perfect example of personal use. Custom-made family greeting cards, labels for your kids' backpacks, and "Save The Date" notes for your wedding are all things many DIYers are looking to spice up with the perfect font, and for many designers, these types of projects fall into the personal use category. If that's the case with your project, we're happy to partner with you!
WHEN you get tons of compliments because of how good they look and you want to sell them, hit us back up for a license then.
Why Does Personal vs Commercial Use Matter?
Maybe the most important question is why it matters at all. If you can download the font for free, why bother to pay for it? It's a valid question. It's easy to be hesitant to pay for a product that, on the surface, is easy to take for granted. Many font designers understand this, and for some, it's part of the reason they make fonts available for download in the first place. By making them freely available, you can 'try before you buy'.
Although it's mostly an honor system, you should still keep in mind that using fonts commercially without a license (when it's required) could land you in trouble. Designers own the rights to their work and can pursue legal action against those who misuse them.
In the end, arguably, the biggest consideration to keep in mind is that, for many of the designers on this site, selling font licensing is how they make their living. Purchasing licensing when it's required is not only the right thing to do, you can feel good that, oftentimes, you're supporting a small business or even a family.
Do I need a license to use Personal Use only fonts?
Designers have the right to change the terms of use anytime they want. So you do not need a license, but if one is available, it would be beneficial to file away. Make sure there is a date and issuer on the license, however, because it's a free license, try not to disturb the author too much. It can be overwhelming handling lots of requests around personal use and not being able to complete new work.
What is the best place to purchase font licensing?
MakersType has a feature on every font and archive page labeled "purchase license". Clicking this button will take you to the site chosen by the designer as their preferred licensing location. Some top sites are Fontspring, Creative Fabrica, Creative Market, and often, the designer's own site. In a future article, we are going to go over our recommendations on where to license fonts at.
Need help figuring out which license you might need? Check out this article that goes through some of the major types of licensing.
Post Details
Uploaded: November 1, 2020