Specify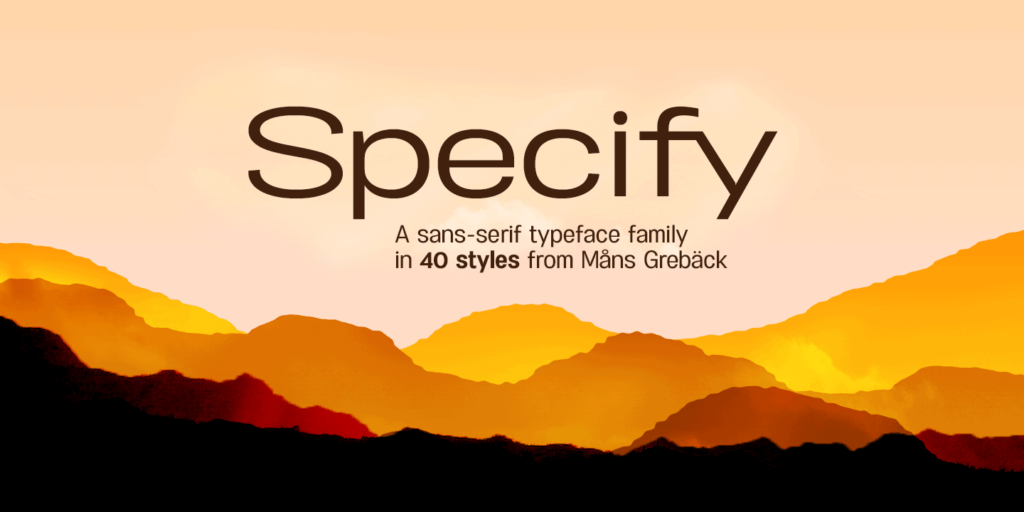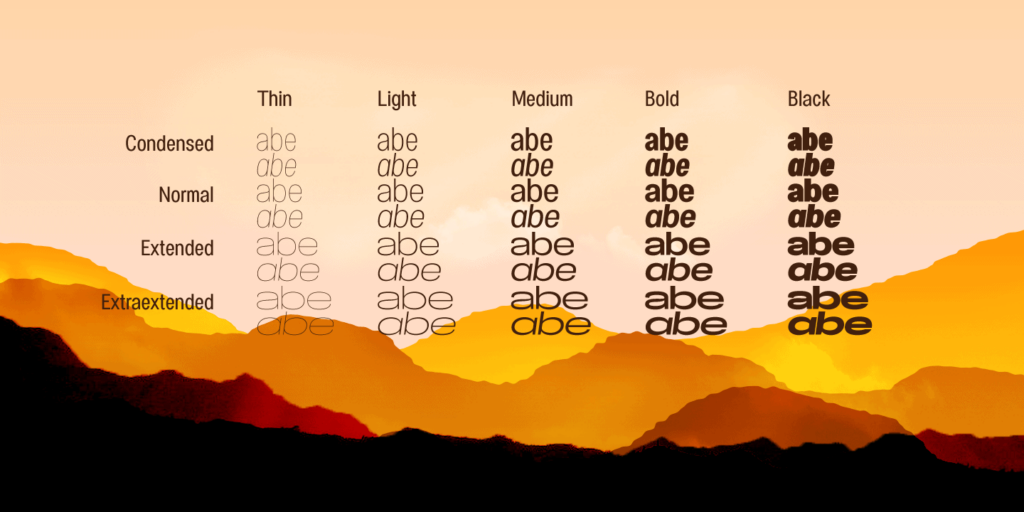 ×



Specify is a sans-serif typeface with real variety. Drawn with precision by Måns Grebäck, it brings brilliance and design to your graphic profile, while being calm and reliable. Its 40 styles and support for all European languages guarantees that it will work in any context. Thin, Light, Medium, Bold and Black weights. Condensed, Normal, Expanded and Extraexpanded widths.
NOTE: This font is for PERSONAL USE ONLY!
To purchase a commercial license, visit:
http://mn.sg/specify
For questions, please visit www.mn.sg/faq

Like This Font?
Bookmark This Font
×

You Must Be Logged In For This Feature
Log In
or
Create an Account
Font Details
Uploaded: October 23, 2020
Download Files
ABSOLUTELY_VITAL_INFORMATION.txt
SpecifyPERSONAL-ConBlack.ttf
SpecifyPERSONAL-ConBlackItalic.ttf
SpecifyPERSONAL-ConBold.ttf
SpecifyPERSONAL-ConBoldItalic.ttf
SpecifyPERSONAL-ConLight.ttf
SpecifyPERSONAL-ConLightItalic.ttf
SpecifyPERSONAL-ConMedium.ttf
SpecifyPERSONAL-ConMediumItalic.ttf
SpecifyPERSONAL-ConThin.ttf
SpecifyPERSONAL-ConThinItalic.ttf
SpecifyPERSONAL-ExExpBlack.ttf
SpecifyPERSONAL-ExExpBlackItali.ttf
SpecifyPERSONAL-ExExpBold.ttf
SpecifyPERSONAL-ExExpBoldItalic.ttf
SpecifyPERSONAL-ExExpLight.ttf
SpecifyPERSONAL-ExExpLightItalic.ttf
SpecifyPERSONAL-ExExpMedium.ttf
SpecifyPERSONAL-ExExpMediumItal.ttf
SpecifyPERSONAL-ExExpThin.ttf
SpecifyPERSONAL-ExExpThinItalic.ttf
SpecifyPERSONAL-ExpBlack.ttf
SpecifyPERSONAL-ExpBlackItalic.ttf
SpecifyPERSONAL-ExpBold.ttf
SpecifyPERSONAL-ExpBoldItalic.ttf
SpecifyPERSONAL-ExpLight.ttf
SpecifyPERSONAL-ExpLightItalic.ttf
SpecifyPERSONAL-ExpMedium.ttf
SpecifyPERSONAL-ExpMediumItalic.ttf
SpecifyPERSONAL-ExpThin.ttf
SpecifyPERSONAL-ExpThinItalic.ttf
SpecifyPERSONAL-NormBlack.ttf
SpecifyPERSONAL-NormBlackItalic.ttf
SpecifyPERSONAL-NormBold.ttf
SpecifyPERSONAL-NormBoldItalic.ttf
SpecifyPERSONAL-NormLight.ttf
SpecifyPERSONAL-NormLightItalic.ttf
SpecifyPERSONAL-NormMedium.ttf
SpecifyPERSONAL-NormMediumItalic.ttf
SpecifyPERSONAL-NormThin.ttf
SpecifyPERSONAL-NormThinItalic.ttf