Cosmic Turtle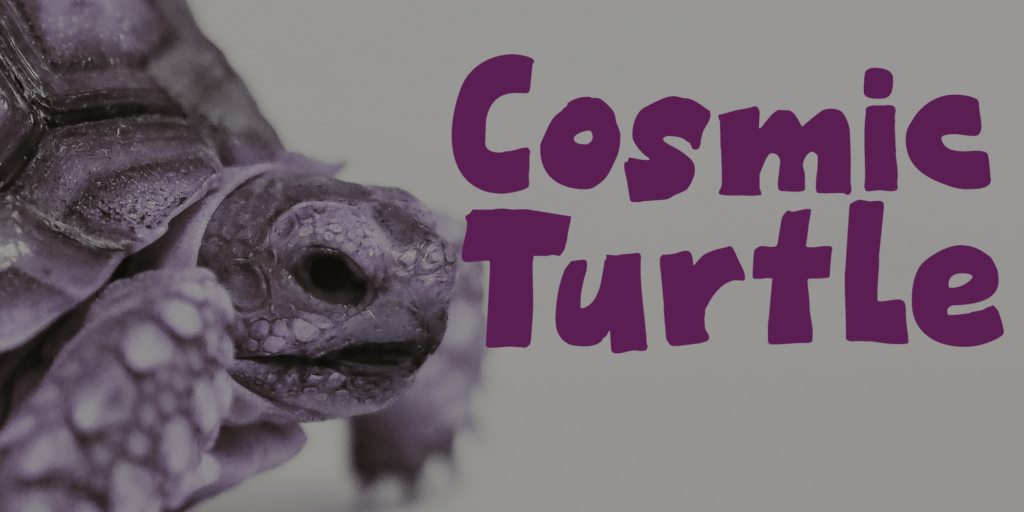 ×

About the Cosmic Turtle Font
Cosmic Turtle is the belief that the world is supported by a giant turtle. It is mostly found in Hindu and Chinese mythology and the mythologies of the indigenous peoples of the Americas. I had to think of this, as the idea of the Cosmic Turtle is referenced to in the 1982 book 'A Wild Sheep Chase' by Haruki Murakami – my favourite author. Cosmic Turtle is a font that I made using a broken chop stick and Chinese ink. I was actually trying to create something scary for Halloween, but this is what came out and I quite like it. Cosmic Turtle is a fat display font with rough edges, wobbly glyphs and a set of double letter ligatures for you to play with.
Note From the Designer
This is the demo, bare bones, version of Cosmic Turtle. It is free for personal use ONLY. If you are going to use it commercially, buy the full version, which comes with kerning, embedding rights, all glyphs (including the 4 & 5) and extras from my site: www.hanodedfonts.com. You CANNOT use this font in games, apps, or software or on YouTube. If you want a license for that, buy one from my site www.hanodedfonts.com or read the FAQ file included in the zip.

Like This Font?
Bookmark This Font
×

You Must Be Logged In For This Feature
Log In
or
Create an Account
Font Details
Uploaded: June 28, 2022
Download Files
Cosmic Turtle DEMO.otf
Hanoded Fonts License & FAQ - READ ME!.pdf