Daitengu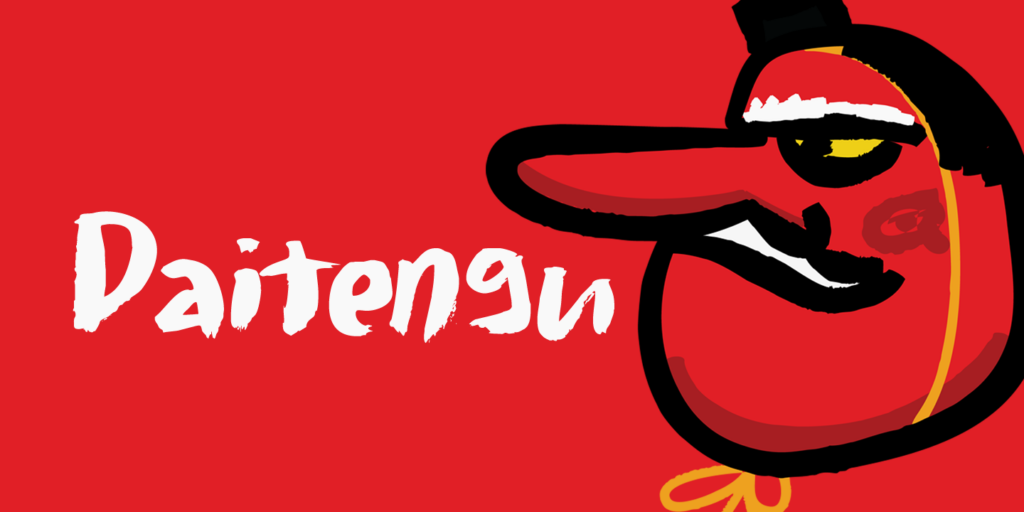 ×

About the Daitengu Font
I have always been fascinated by Tengu – a mythical creature from Japan. Tengu are usually depicted with a red face, a very long nose, white moustaches and a funny hat. They used to be regarded as harbingers of war, but over the centuries, their image softened and they became the protective spirits of mountains and forests.
Daitengu means 'greater tengu' and stems from the Genpei Jōsuiki – an extended version of the 'The Tale of the Heike' – an epic account of the struggle between the Taira and Minamoto clans for control of Japan.
Note From the Designer
This is the demo, bare bones, version of Daitengu. It is free for personal use ONLY. If you are going to use it commercially, buy the full version, which comes with kerning, embedding rights, all glyphs (including the 4 & 5) and extras from my site: www.hanodedfonts.com. You CANNOT use this font in games, apps, or software or on YouTube. If you want a license for that, buy one from my site www.hanodedfonts.com or read the FAQ file included in the zip.

Like This Font?
Bookmark This Font
×

You Must Be Logged In For This Feature
Log In
or
Create an Account
Font Details
Uploaded: June 28, 2022
Download Files
Daitengu DEMO.otf
Hanoded Fonts License & FAQ - READ ME!.pdf