Instant Harmony Font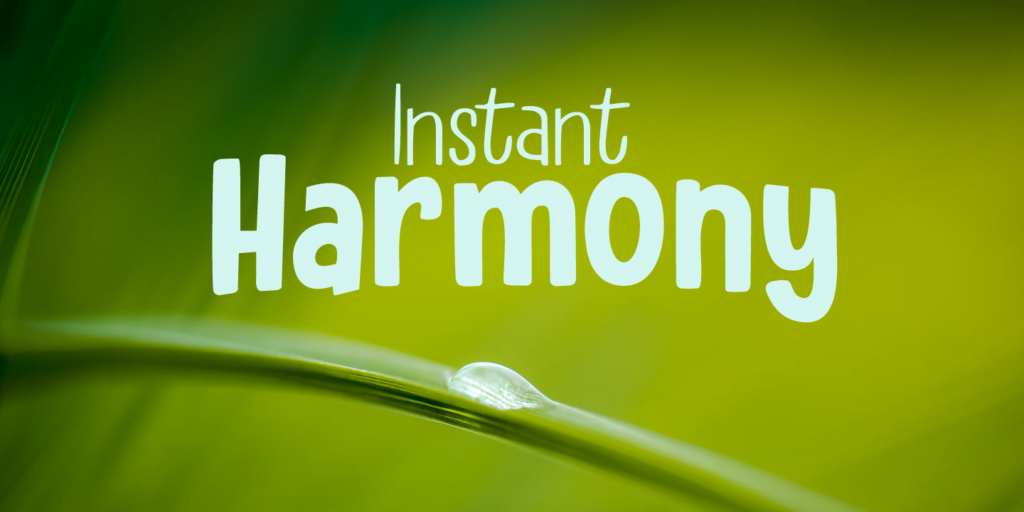 ×

About the Instant Harmony Font
Wouldn't it be nice to have a pack of Instant Harmony in your cupboard? Just add water and *poof* – all strive and struggle have gone, having been replaced by peace and quiet. The grass seems greener, the sky bluer and the air smells like a fresh mowed lawn. Ahhhh!
Zap! Back to reality. There is no instant harmony, don't go looking for it in your local supermarket! If you want a taste of something resembling instant harmony, then add this super-duper font family to your collection and use it for your designs. You may find that your creativity levels are up, your morning coffee tastes better and your designs look exactly like you had in mind. Pinky promise!
Note From the Designer
This is the demo, bare bones, version of Instant Harmony. It is free for personal use ONLY. If you are going to use it commercially, buy the full version, which comes with kerning, embedding rights, all glyphs (including the 4 & 5) and extras from my site: www.hanodedfonts.com. You CANNOT use this font in games, apps, or software or on YouTube. If you want a license for that, buy one from my site www.hanodedfonts.com or read the FAQ file included in the zip.

Like This Font?
Bookmark This Font
×

You Must Be Logged In For This Feature
Log In
or
Create an Account
Font Details
Uploaded: July 4, 2022
Download Files
Hanoded Fonts License & FAQ - READ ME!.pdf
Instant Harmony DEMO.otf
Instant Harmony Lite DEMO.otf