New Features May 2022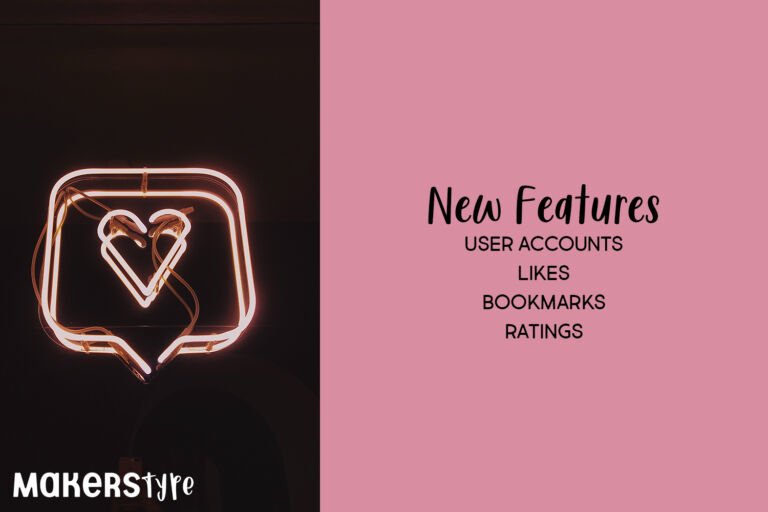 Introducing New Features for MakersType
We are proud to announce several new features that are all designed to streamline your workflow and help you find the highest quality fonts available.
Up until now, there was no way to track your fonts and leave comments for designers and the community as a whole. Your account page has a dashboard to help you keep track of your downloads, and our new features: likes, ratings, and bookmarks to help you keep track of current and future project ideas. Users will need an account to use any of the new features. You can sign up for an account by going to our sign up page, clicking the "Log in" icon, or attempting to bookmark, like, or rate. If you try to use the new features, it should automatically help you sign up.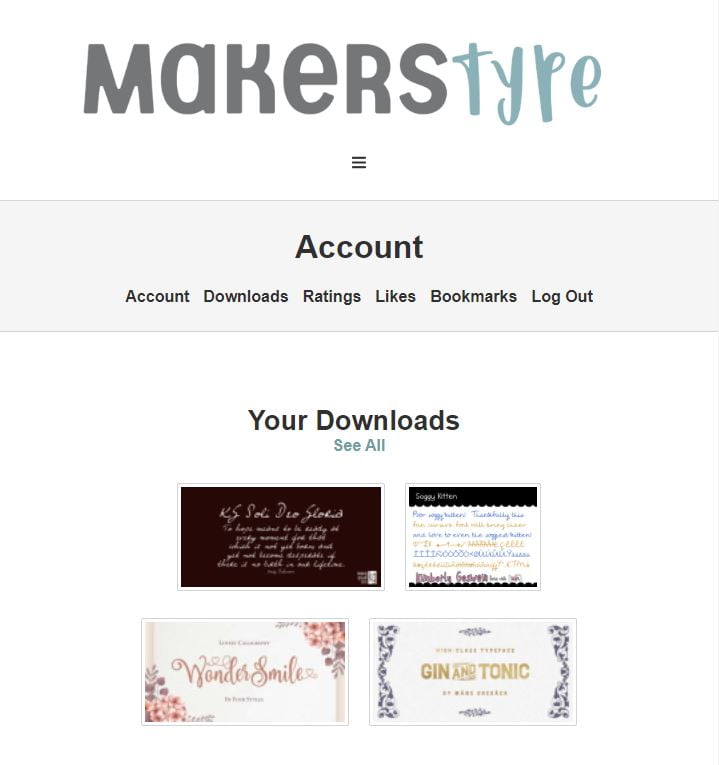 Likes
Likes are designed to show your appreciation for how the font looks and how it's presented. They are intended to reflect first impressions and are also an easy way to encourage the designer, and help the MakersType community as a whole understand what coming trends might be. No need to have downloaded the font and used it.
Reasons to like a font:
It's cute
You're impressed with the look and feel
You want to encourage the designer
You appreciate the features offered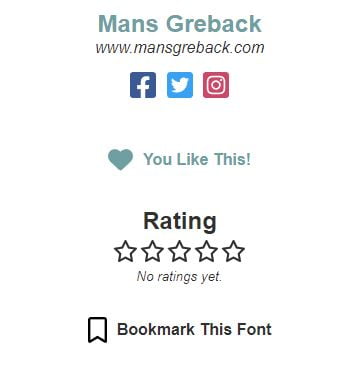 Font Ratings
Ratings should be based on how the font functions. How is the kerning? Did it install with no issue? Did the script letters connect correctly? Did the font cause performance issues? Do characters look as they do in the presentation images? These are all things we are looking for with ratings. If you choose to give a font a low rating, please share the specific reason in the comments, so that artists can improve their work. Your comments need to be constructive and informed.
Please don't rate based on:
Whether or not you like the style of the font
If it's too big or too small (sizing is often set by the max ascender and min descender, so highly stylistic fonts or mono height fonts may look different compared to standard fonts)
Your feelings toward the designer
If the font wouldn't download or other site performance issues

Font Bookmarks
Bookmarking is designed to help you keep track of fonts for a project or separate out fonts you just want to remember for later.
On each font, you will find the bookmark icon. If you are logged in you will be able to add it to an existing list or create a new one. These can all be found at the bottom of your account page or by selecting the bookmarks tab.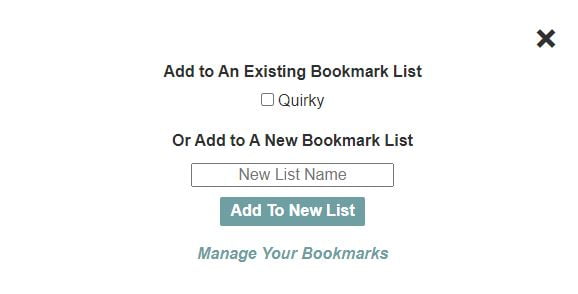 We have also added a Road Map page to let you know what we are working on and when we hope to make it available to you. The dates represent our tentative schedule for when we would like to have projects completed. Obviously, things happen, and sometimes things will move more quickly, other times they might move slower.
Suggestions
After using the site for a bit and looking at the Road map, please let us know if you think there are features we are missing.
Along with these other updates to the site, we are inviting you to join our Facebook group and Discord channel. At the time of writing this, we are just announcing them, so if you want to join, you can be one of the first to help us grow! What is Discord you ask? Here is a full description of our new communities.
Thanks
Also, Thank You so much for hanging out with us. MakersType has been a dream for the last ten years and we are getting closer to our vision of it. Thanks for being a part of the beginning of our journey.
Post Details
Uploaded: May 18, 2022