Choosing The Right Font: Reputable Font Sites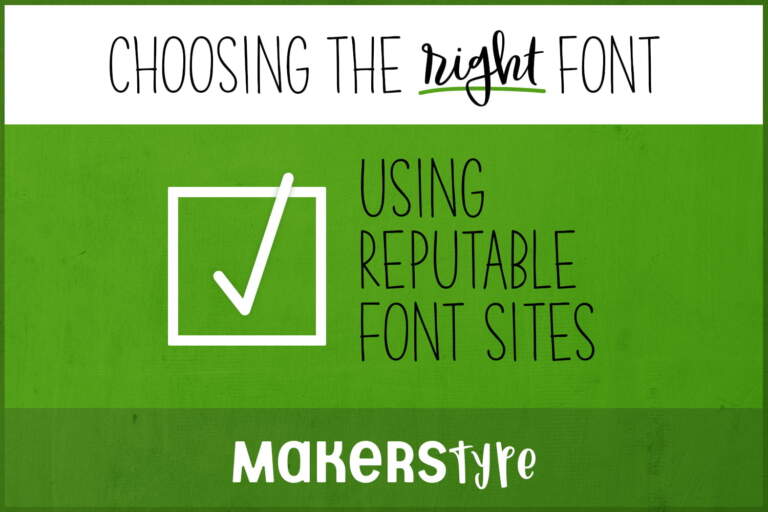 When choosing fonts for your next project, making sure you find them from reputable font sites will help you, the project designer, your client, and the font designer.
I will admit it… I wasn't always this way. At one point in time, I was naïve enough to believe that picking the right font was easy because Microsoft had all of the fonts available already preinstalled on my computer. How nice of them to include every available font right inside Microsoft Word, my 2nd favorite graphic design application after paint. We (I) were left with such a small contrast of options to choose from. I used papyrus on my wedding handouts not because it was exactly what I wanted, but because it was the closest.
The day I found out there was a whole rainbow of fonts available in the world was literally life changing. Literally is overused, but I am using it correctly here. Not just in the moment, but for decades to come now
Here comes the problem with the wide wide world of fonts. How do I choose which fonts work for me, my products, and my brand? This is one of the most asked questions I get. Let me try to walk you through my thoughts. I am not saying I am right, these are just some ideas that I try to think about, and hopefully they will help you as well.
Choosing from Reputable Font Sites
If designers are not listed on the site, run! Run far and run fast. Maybe the most important part of choosing your font is making sure you are choosing it from a reputable source. There are so many font websites out there and many of us just find one we are really comfortable with. Here is the problem, so many of them are —
here I had to pause to find words my mom would approve of… 🙂 hi mom
— not friendly to designers. Many fonts take months or years to finish, then some rando takes your work, puts it on their site, doesn't list you as the creator or detail how end users can legally use it, runs advertisements and takes all the money. This — hi mom — jerk will sometimes go so far as to claim the work as their own and take payments to use it commercially. They may even take donations in the actual designer's name.
You may ask, "Why does that matter to me? I just want a free font to use." I can understand that, and have been in those shoes too. For the most part, it might not ever affect you. But there are two main reasons we highly suggest using reputable websites.
Font File Maintenance
Number one, the files are not maintained by the designers. The issue here can be as simple as not having the most updated version of the font to even having malware hidden in the font files themselves. Fonts sometimes have issues with all sorts of things, and are commonly updated by their designers. Alternatively, sometimes new features, characters, weights, as well as additional language support can be added to a font by the creator. However, non-reputable sites almost never keep up with the updates. So by using these sites, you may be missing out on a more complete product just because you are using the wrong source to find them.
Legal Considerations
Number two involves a quick anecdotal (but true) story. Company A buys out a font from us, so we no longer own any rights to it. We make sure the font is removed from the reputable font sites we uploaded it to. Company B starts to use that font a few months later (they found it on an unreputable site that we never uploaded it to). Company B writes us a year later trying to obtain correct licensing for something they have already been using. We have to tell Company A what's happening so we don't get in trouble, and Company B gets their pants sued off by Company A. Don't be Company B.
The Scope of the Problem
So how widespread of a problem is this? Just how many sites out there aren't reputable? The short answer: um… a lot.
For a quick visual, we did a Google search for two of my most popular fonts, Orange Juice and Letters for Learners, and then looked at the first 30 results. Here's what we found.

You've got less than a 50% chance of choosing reputable font sites, unless you know what to look for. With that said, here's how we recommend you ensure you are using trustworthy sites to find your fonts.
Recommendations
Designer Sites
Many typographers have their own websites. These sites will most likely have the most up to date versions, direct customer support, while also being the best way to support the creator of the work you are interested in. Most of these sites will guide you to their choice of where you can try out the font for free, as well as offer direct licensing on the site or link to the partner sites they prefer.
A Few Examples:
Måns Grebäck
Kimberly Geswein Fonts
Blue Sky Design
Distribution Sites
These sites typically offer free, demo, or trial versions of fonts from an array of designers. This is the category that MakersType falls in. These sites can be very convenient, as they contain a much wider range of fonts, and can help you find fonts quickly.
There are a few things we suggest you look for from a font distribution site to make sure they are not taking advantage of designers.
Make sure each font:
lists the designer
gives information on how to get in contact with that designer
includes the Terms of Service for the download file (free for personal use, free, etc…)
tells you how/where you can obtain licensing for commercial use
If a site does not at least meet these minimum requirements, you might end up becoming Company B. Again, don't be Company B.
Recommended Distribution Sites:
MakersType
Fontspace
Dafont
The reason these are reputable font sites is because fonts can only be added to them by the font designers/owners or people working on their behalf. They don't randomly add fonts without permission. In addition, designers can update the fonts files, include important information about licensing and terms of use, and may even be compensated via paypal donations and/or shared ad revenue. These sites work to partner with designers instead of just using others' work for their own benefit.
I first realized I could make a living as a font designer because of a donation from Fontspace, I started building a following because of my fonts being on Dafont, and I built MakersType to further highlight designers and make it as easy as possible for end users to understand and find commercial licensing, should they need it. Needless to say, all three sites have an important place in my heart. <3
Licensing Sites
Licensing sites specialize in a variety of licensing options for fonts. These sites partner with designers to license fonts on their behalf. Most have a great support team, explanations for each type of license, and can cover businesses of any size.
Recommended Licensing Sites:*
Fontspring
Myfonts
Creative Market
Creative Fabrica
FontBundles
Note: Etsy can be a tricky place to license fonts as there are many stores that are not licensed to resell fonts. Designers receive no money from these sales, and you will not actually be licensed to use the font if you buy from them. If you are most comfortable buying on Etsy, try to stay with stores that are owned by the designer and not a 3rd party.
If you are not sure of a site, feel free to ask us and we'll see if we can help. MakersType is not an authority on the subject, but we do have lots of experience.
Check back soon for other articles on choosing the right font like how to find highly functional fonts, font feelings and messages, quality of fonts and more! Also check out our pairing guides to help find fonts that can work great together for your projects.
*Some of the licensing site links are sponsored links.
Post Details
Uploaded: February 15, 2021