Allowed Uses For Fonts MakersType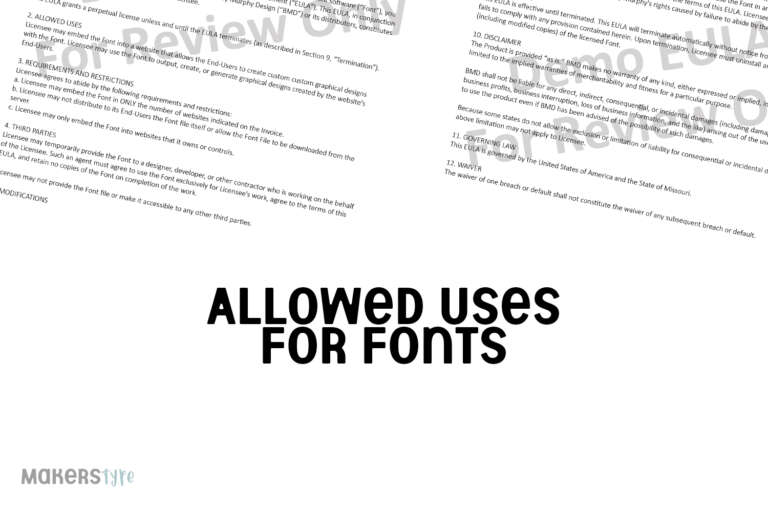 Allowed Uses for Fonts on MakersType
We are working to help content creators and graphic designers alike have an easier time understanding when you need a license for the font, and if you do, which type of license. Currently, on MakersType, we split all fonts into three categories of allowed uses based on commercial use terms determined by the designer. These can be an oversimplification of what the font designer requires in their Terms Of Use, but it should give you a basic understanding of the allowed uses for fonts.
The goal of this article is to help you understand how we classify the fonts here so you can make an informed decision on what you are downloading/purchasing. As designers, we have users pointed out to us all the time that simply didn't know what you were allowed and not allowed to do with a font they downloaded from another site. This can end up as an unexpected cost, or possibly a DMCA claim on a youtube, Etsy, a web host, or more.
Allowed Uses for Free Fonts
All of the fonts in this category are free to use in most ways. These fonts are still owned by the designer, and you may not distribute them or sell the font file without written permission. Typically they have been marked this way in hopes that you will look at the rest of the designer's work. Although not required, if you do use these fonts, it would be a big help to the designer(s) if you tagged them in a post of your creations on social media.
It is very important to check the Terms of Service even for free fonts. There may be some allowed uses and still others restricted. This could mean you are allowed to design a product but not a logo, as well as many other situations.
What does Free for Personal use mean?
Many designers want to share their work with everyone and let you try it out. These fonts are great for making birthday cards for your friends, posters and signs for your house, or on your kids' school projects. For these fonts, you will need to use the 'Purchase License' button to find and purchase licensing for any projects that fall under commercial use. Commercial normally boils down to anything involved in a group/organization/business that uses the font. This includes things like business cards, slide presentations, flyers, fonts used on products for sale and packaging, as well as extended licenses that allow things like installing a font on your server for use by clients. Cost can range from a few dollars and go up from there based on the designer and your use.
This category currently makes up the bulk of fonts on MakersType. Because of this, we are working to provide several articles and explanations on how this works in more detial. It's by far one of the most common questions we get simply because most new graphic designers don't have experience with licensing whatsoever. Understanding allowed uses for fonts and other digital files are still a relatively new thing, so please feel free to ask designers questions and learn as much as you can. You can also look through our other posts on the topic like Personal vs Commercial Use or Understanding Font Licensing.
What does Purchase Required mean?
On MakersType, Purchase Required fonts are not available for download because there is no free for personal use or demo version available. If we have it marked as a Purchase Required required font, this almost certainly means it shouldn't exist somewhere for free other than promotions. Some sites may have these fonts available, however, we do not count these as reputable font sites.
We wanted to be able to bring as many fonts as possible to one location so you can find "just the right" font. These fonts are included in the search function on MakersType, but in order to use them, you will need to purchase a copy of the font which typically comes with basic commercial licensing.
Conclusion
Paying a little attention to the allowed use of each font can help you save some time and money by making sure you understand the designers' intended use of the download. If we could boil everything down into a phrase it would be: Always Check with the Designer. This could be through their website FAQ, licensing page, or by sending them a message.
If you have read this far, we (as designers) want to say thanks for showing that you care about respecting designers and their work. Seriously… Thanks!
Post Details
Uploaded: April 26, 2022